Protection of floors and stairs during construction and renovation
PrimaCover Construct is an extra strong, multi-layered self-adhesive non woven covering. It was specially developed for the safe protection of floors and stairs. The quality of this polyester covering is proven in everyday practice during demolition, renovation, remodelling and maintenance work. For example, in homes, public buildings and commercial property. Especially when the risk of damage is high. PrimaCover Construct is suitable for thoroughly dried hard surfaces. Not only at the construction site, but also in the access routes and entrances of buildings where building activities take place.
Multi-layered self-adhesive non woven covering
PrimaCover Construct multi-layered self-adhesive non woven covering was specially developed for thoroughly dried hard surfaces. This cover material protects floors as well as stairs. From demolition to completion. For example, concrete, laminate, wood, parquet, tiles and vinyl. By covering these properly, you prevent damage from debris, grit, work shoes, construction stamps, ladders, paint and lime. The more porous the material, the more important the protection. Concrete, for example, is a common substrate. But unfortunately, it is also very porous and therefore more likely to be damaged. Moreover, it is difficult or impossible to repair without seeing it. If the building contains such a risky floor or staircase, protecting it with a proper covering material is the only right solution. This way, you can finish the renovation or reconstruction without any damage. Without discussions and repair costs.
Read all about PrimaCover Construct here >
Liquid-proof, anti-slip protection
PrimaCover Construct provides liquid-proof, anti-slip protection. This covering material can take a good beating. It offers triple protection: two layers of polyester covering with a liquid-proof middle layer of PE film that is impermeable to paint and moisture. Thanks to the self-adhesive bottom layer, PrimaCover Construct provides a safe walking surface. It is therefore ideally suited for stairs. The liquid-absorbing polyester top layer also protects against slipping. So it is not only safe for surfaces, but also for the people who work on them.
Access route and entrance
By the way, don't forget the access route and entrance, because also here damage is lurking. After all, a lot can go wrong with the delivery of building materials alone. Do you carry out renovation and construction projects in buildings that must remain accessible in the meantime for visitors, guests and residents? More people on the floor means a greater risk of grit and dust being walked into the surface. Clients and managers of hotels, offices, hospitals, public buildings or apartment complexes will therefore appreciate it if you cover the access routes. This also makes it clear at a glance to visitors and residents that work is taking place in the building. So, not only do you provide protection for floors and stairs, but with this representative covering material you also increase understanding for any inconvenience.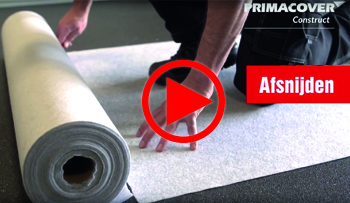 [Video] Applying PrimaCover Construct >
Available at professional outlets
PrimaCover Construct is available from professional outlets, such as professional construction markets, hardware wholesalers and paint wholesalers. For more information and a sales address near you, please feel free to contact Primaverde's customer service department. We will be happy to help you!
Go to the information page about PrimaCover Construct >
---
TIP:
PrimaCover Robust zelfklevend afdekvlies voor buiten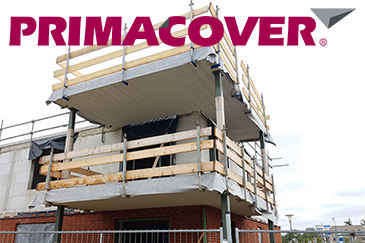 Zoekt u een zelfklevend afdekvlies met een hoge beschermingsgraad dat ook geschikt is voor buiten? Kies dan voor PrimaCover Robust. Ideaal voor het afdekken van galerijen, balkons en trappenhuizen van prefab beton gedurende het gehele bouwproces. In weer en wind.