Protectionboard and painter's drop cloth in one
Sometimes there are reasons to choose a non-adhesive floor covering. A covering material without an adhesive layer does not adhere to the surface and is therefore easy to move. This can be convenient for example for small painting and maintenance jobs. When you think of a moveable covering material, you quickly think of traditional cardboard although there is a better solution. PrimaCover Combi has been specially developed for painters, plasterers, sprayers, installers and maintenance mechanics who have demands on their non-adhesive floor covering. For example when it comes to safety and ease of application. We have listed the 5 advantages of PrimaCover Combi for you.
Underside without adhesive
PrimaCover Combi has an underside without an adhesive layer. This makes it a remarkable item in our product range. You probably know PrimaCover from our extensive range of self-adhesive non woven coverings and protective films. Therefore you are probably aware of the advantages of using our self-adhesive products to safely protect not only floors, but also stairs. Because of the adhesion to the surface, we normally never recommend a covering material with an underside without an adhesive layer for use on stairs. However, PrimaCover Combi has its own area of application and has its own fans. And not to forget… no less than 5 enormous advantages in comparison to traditional cardboard protection.
When to use non-self adhesive floor protection?
When do you choose a non-self adhesive floor protection? The answer: when you want to be a little more flexible in positioning them. PrimaCover self-adhesive covering materials are of course also excellent for repositioning and moving if required. But because PrimaCover Combi does not adhere to the surface, it is easier to move from place to place. This is convenient for painters who only want to finish a few frames or doors or for technical companies for small maintenance work. In addition, a non-adhesive covering material is somewhat more versatile in use; in general, it is suitable for any thoroughly dried surface.
Directly to the product page of PrimaCover Combi >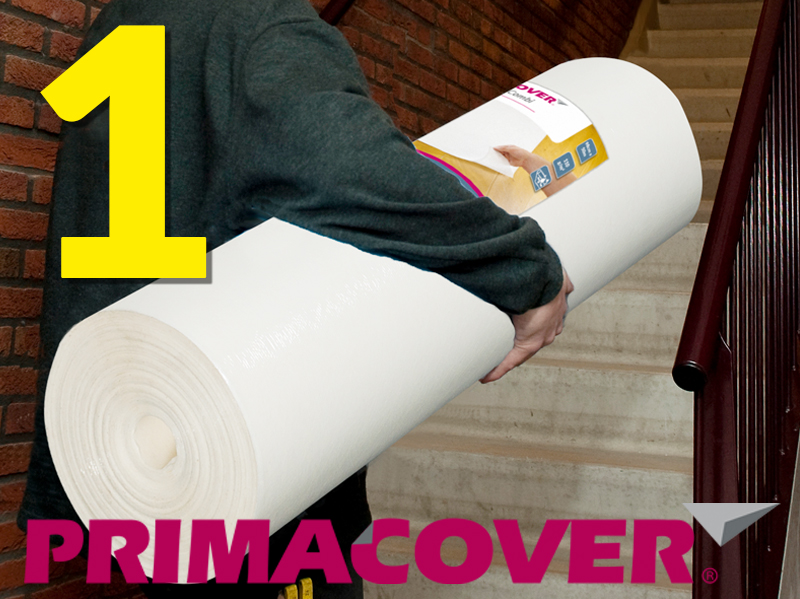 Advantage 1:
Lightweight covering material
PrimaCover Combi is a lightweight covering material. It is actually a protectionboard and painter's drop cloth in one. This combination results in a lightweight covering material with high protective qualities. Additionally, thanks to its low weight, PrimaCover Combi is easy to handle. For example when loading and unloading. But also when taking it to the workplace. With a roll of traditional cardboard protection that's not exactly a walk in the park. Not to mention health and safety regulations, of course.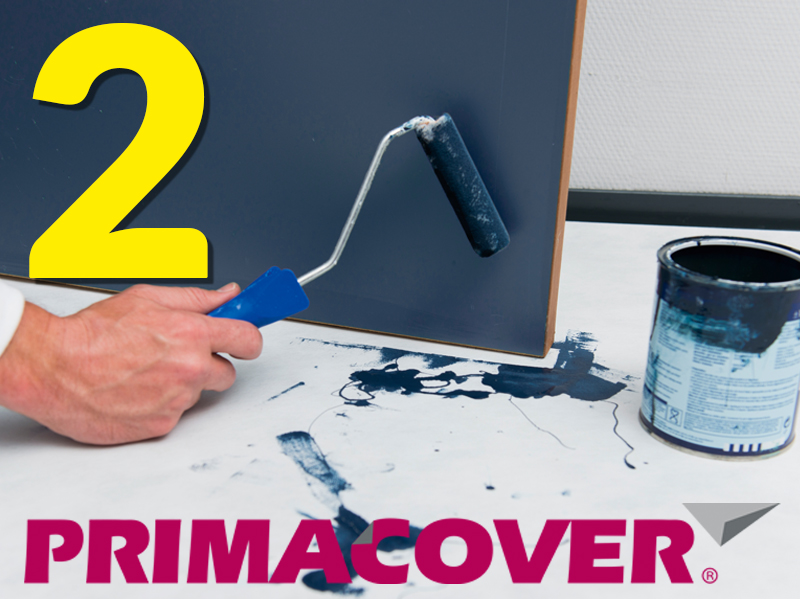 Advantage 2:
Absorbent lint-free top layer
The absorbent top layer of PrimaCover Combi is made of lint-free spunbonded fabric. This makes it suitable for the painter. It also provides a number of advantages. Water, paint and other liquids will not remain on the surface. They are absorbed by the absorbent top layer, so that they can't spread further across the floor surface. Naturally, this also increases safety for the people working on it. Even after a liquid spill, the surface remains non-slip.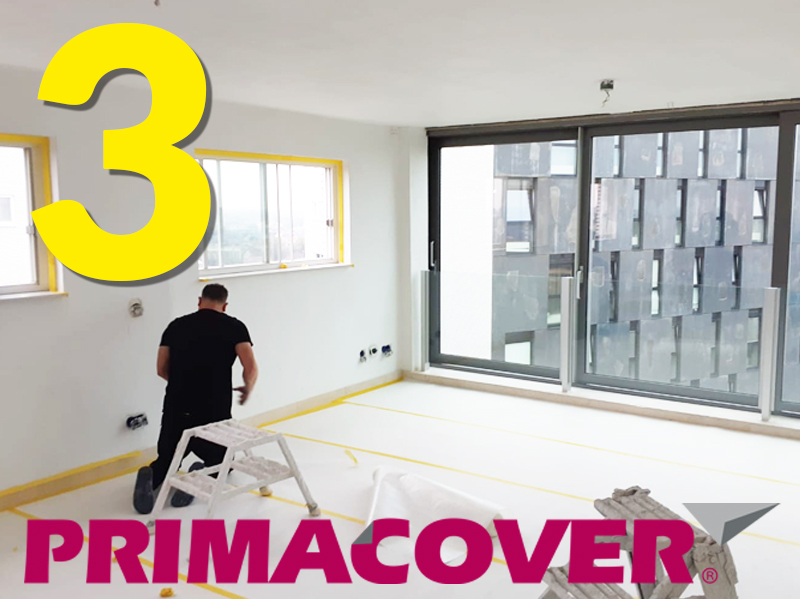 Advantage 3:
Easy to work with
PrimaCover Combi is easy to work with. Rolling out the material is practically automatic. For example, the material does not curl up. The perfectly straight edges can be laid tightly along the walls. Because the edges also remain flat on the floor, it is not necessary to secure the covering material to the floor with tape. It is suitable for both large and small (sub)projects. Use 10 cm overlap for larger surfaces and connect the seams with a suitable tape for continued protection. After use, PrimaCover Combi can be easily and compactly folded, which means it takes up less space in the waste container.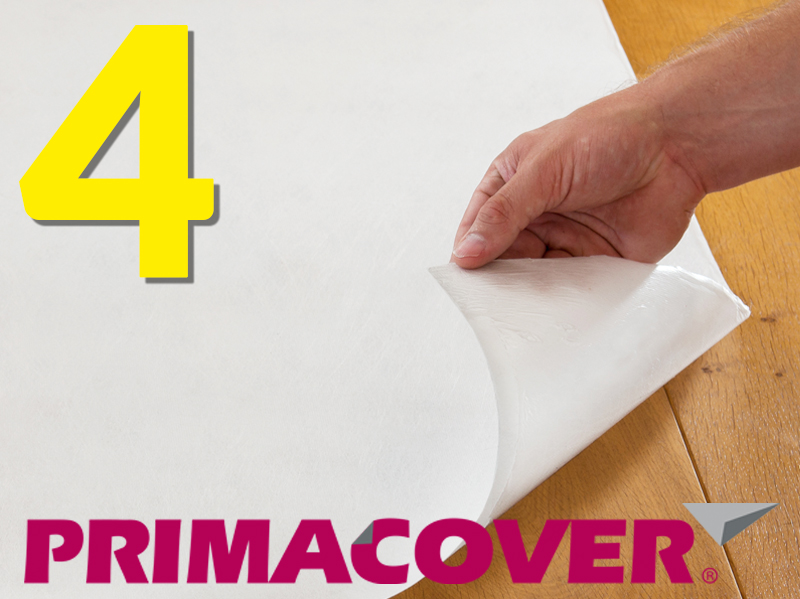 Advantage 4:
Solid structure
PrimaCover Combi consists of two layers: a top layer of spunbonded fabric with a strong impermeable PE foil underneath. Whereas the structure of traditional cardboard consists of short fibres that can lose their mutual adhesion under the influence of moisture, the structure of PrimaCover Combi is very solid. Even under the influence of liquids. Therefore Water and paint have no chance of penetrating the surface.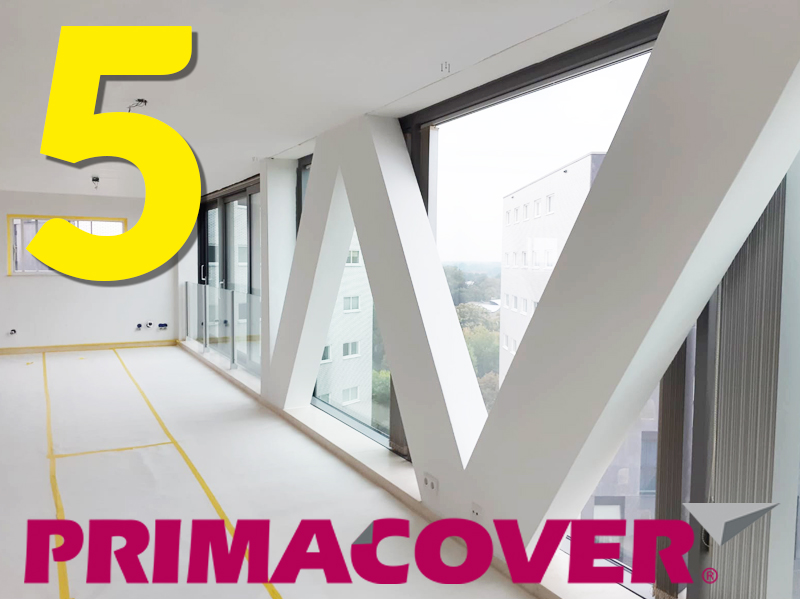 Advantage 5:
Representative
The appearance of PrimaCover Combi is representative. The material colour is always white. The width and composition is always the same. Particularly in certain sectors, your customers will find this important. Think of public buildings, hotels and hospitals. For you as well, it may be a pleasant side effect that you know what you are bringing to the project.
---
Comparison PrimaCover Combi – Traditional cardboard floor protection
PrimaCover Combi
Traditional cardboard floor protection
Lightweight covering material
A lightweight roll of PrimaCover Combi cover material is easy to use and handle during transport and processing.
Heavy weight
A roll of cardboard floor protection is heavy and therefore hard to handle.

Absorbent lint-free top layer
Spilled liquids, such as water and paint, are absorbed by the spunbonded surface. This also results in a safer, non-slip walking surface. This top layer is also lint-free and therefore ideal for painting.
Smooth top layer
Spilled liquids remain on the cardboard. This makes it more easily for them to spread to the rest of the floor. In addition, the surface of the cardboard becomes slippery and unsafe as soon as it is covered with liquid.
Easy to work with
The edges are perfectly straight and sharp. The covering material does not curl up when unrolled. It is suitable for large and small surfaces. After use, PrimaCover Combi is easy to fold for efficient use of the waste container.
Stiff cardboard
Cardboard is made of stiff cardboard. This has a tendency to curl. The risk of this is, that the surface may become exposed. In addition, there is a risk of tripping. Cardboard is a voluminous material and therefore makes for less efficient use of the waste container.
Solid structure
PrimaCover Combi is a combination of spunbonded fabric with a underside of a solid impenetrable PE foil. The structure of this cover material is insensitive to liquids such as water and paint.
Loses structure under the influence of moisture
There are cardboards with and without a plastic coating on the cardboard backing. But once cardboard gets wet, it becomes mushy and loses its protective effect.
Representative covering material
PrimaCover is a representative covering material. It is white in color and always the same width. Practice has shown that clients really appreciate this. For them it is a sign of professionalism and care.
Variable designs
Cardboard floor protection has variable designs. What it looks like is therefore often a surprise. The roll width also varies. As a result, it is not suitable for every customer.
---
Information about PrimaCover Combi
For more information about PrimaCover Combi, please visit our product page. The PrimaCover consultant team will also be happy to help you if you want to know more about how to use this product or if you want information about PrimaCover Combi in your specific practical situation. So please feel free to contact Primaverde.