Painting is the last step in construction, remodelling and renovation. As a result, the painter's work is often close to the deadline. And that's exactly when things can still go wrong – for example due to rushing or simple bad luck. After all, there is always the risk of damage caused by scaffolding, stairs, a dropped brush or a knocked over paint tin. If you are a painter, you naturally choose a reliable covering material. But did you know that you cannot cover every surface hermetically? For example, you have to be extra careful with new floors and stairs made of natural stone or exposed concrete. If these have not yet fully dried out, it is important to protect them with a self-adhesive breathable covering. That is why you should get to know PrimaCover Active.
Natural stone floors and stairs
Painters who want to exclude any risk of damage will cover floors and stairs, regardless of the material they are made of. This goes especially for natural stone floors and stairs. Firstly, natural stone is a vulnerable material with an open structure. This means that it is porous by nature and therefore sensitive to acids and other aggressive liquids, such as paint. In many cases, natural stone tiles receive a protective surface treatment, but the (sawing) edges are usually unprotected. For this reason alone, covering is very important.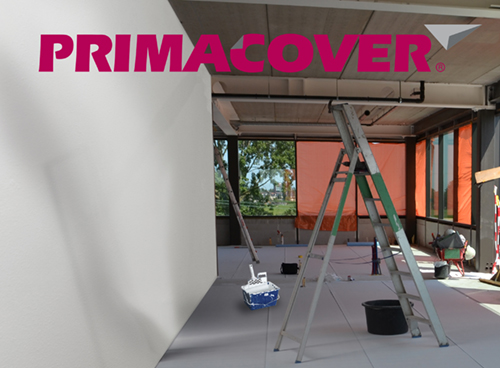 Recently laid natural stone
But extra care is needed when covering recently laid natural stone. Why? The glue or mortar needs time to evaporate. The moisture creeps up during the drying process and activates the lime that is present in the natural stone. The open structure of natural stone functions as a system of numerous channels. If you were to hermetically close off the natural stone surface, you would risk stains and edge damage. These damages are usually irreparable. This not only delays the completion of the building project but also leads to serious discussions about the repair costs. You can avoid this by safely choosing PrimaCover Active. This is a self-adhesive breathable non woven covering (water permeability 1.2l/m2/24h) that protects floors and stairs against moisture, paint and mechanical damage.
Exposed concrete
Also recently laid exposed concrete floors are not immediately dry. Here too, a breathable covering should be used to cover the surface. The risks involved in hermetically sealing off the surface are similar to those involved with natural stone. This means that moisture can collect on the surface, causing marks on the fresh floor. In the case of exposed concrete, the effect is even more disastrous. This floor consist of one continuous floor surface, as a result of which repairs will be expensive and hardly invisible. PrimaCover Active also limits the risk of discussions about blame and repair costs in this case. This is because PrimaCover Active gives exposed concrete floors the chance to dry out. This means that as soon as the floor manufacturer deems it responsible, the painter can start work. This way, you shorten the waiting time in the finishing stage.
The properties of PrimaCover Active breathable non woven covering:
breathable non woven covering (1,2l/ m²/24h)
absorbent top layer
impact absorbing
liquid proof
self-adhesive
anti-slip
lightweight
protects against dirt, paint and moisture
suitable for floors and stairs