Suppose you want to be well prepared for a maintenance job, building site, renovation project or finishing assignment. Which PrimaCover covering material should you take with you, if you do not know exactly what kind of material will be on the floor or stairs? In that case PrimaCover Standard is in most cases the safe choice.
Nonwoven polyester covering
PrimaCover Standard is a reusable self-adhesive non woven polyester covering, with an anti-slip top layer of impermeable PE foil. It offers excellent protection against debris, grit, water, paint, climbing materials, wheelbarrows and falling tools. The adhesive layer provides sufficient grip during work but leaves no residue when the job is finished.
Existing floors and stairs
PrimaCover Standard is suitable for surfaces that do not (or no longer) need to dry and therefore do not require a breathable covering material. Examples are existing floors and stairs made of wood, ceramic tiles and synthetic materials. This non woven covering is also an excellent choice for laminated floors. The rolls are lightweight and therefore easy to carry. The material is easy to lay out and position.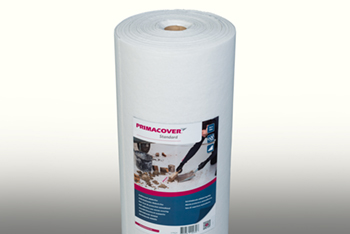 Three widths
Of course you may expect from a covering material with such a broad area of application, that it will be easy to work with in all circumstances. That is why PrimaCover Standard is available in three widths: 0.65 metres, 1 metre and 2 metres. An entire product family. The small roll is ideal for use on stairs and in corridors. The broader rolls are especially meant for larger surfaces, such as living rooms and offices.
Tip for indoor renovations
PrimaCover has a useful tip for when you are renovating or partially renovating an indoor space. Protect not only the workplace and the immediate surroundings, but also think about the access route. A walkway of the smallest version (0.65 metres wide) is already sufficient to reassure your client. And it also contributes to your professional image.
Protection pays off!
Conclusion: PrimaCover Standard is light, easy to apply and offers the protection you need in most circumstances. So feel free to put a few rolls in your car or trailer. Your client will be grateful. And it also saves a lot of repair costs and discussions. Not to mention the risk of repair work disrupting the schedule. Protecting with PrimaCover Standard pays off!
More information
PrimaCover covering materials are available from professional DIY stores, hardware wholesalers and painting wholesalers. For more information, please feel free to contact Primaverde. Or send an e-mail to sales@primaverde.com.