Galleries, staircases and stairwells made of precast concrete are part of the construction of a building. But because they remain in view, they must be delivered at the end of the building process neatly and without damage. How do you deliver these precast concrete elements without repair costs, even if they are subjected to a great deal of stress during construction? There is really only one good answer: cover them with reliable protection. Stairs and floors of precast concrete are protected throughout the entire construction process with PrimaCover Robust.
Precast concrete and other heavy-duty applications
PrimaCover Robust is a covering material that was especially developed for the proper protection of prefab concrete and other heavy applications. It is resistant to mechanical damage and moisture. Think of building stamps, tools, stairs, scaffolding, debris and paint. In addition, it provides a safe walking surface for the people at the site.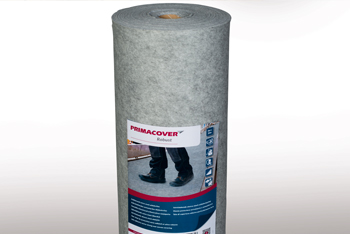 Three layers
PrimaCover Robust, recognisable by its grey colour, is available on rolls of 1 or 2 metres wide. The extra wide version is ideal for larger surfaces, such as industrial halls, wide staircases and larger entrances. This non woven covering consists of three layers: two non woven polyester layers with a liquid-proof film in between. It can therefore take a good beating. PrimaCover Robust is UV and weather resistant and can therefore be used for a long time, both indoors and outdoors. Application – and later removal – requires little effort, thanks to the well-balanced adhesive strength.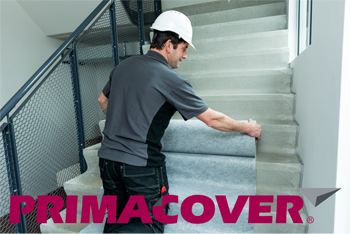 Safe
PrimaCover Robust is safe for people working on it. Thanks to its self-adhesive properties, the material remains nicely in place. The absorbent polyester top layer also protects against slipping. Although PrimaCover Robust has been developed from start to finish for concrete surfaces, in practice we also come across this non woven covering for other uses and surfaces. For instance as temporary floor protection for gymnasiums during school exams or as a safe and seamless walking path during events.