A dust door needs to do what it is supposed to do: keep out dust. With the reliable dust doors from the PrimaCover Zipper series you will prevent construction dust from entering adjacent rooms through a passageway. PrimaCover brings three versions with a zip on the market. They have one thing in common: their quality. As with all PrimaCover products, the following applies: once in place, you should not have to worry about it.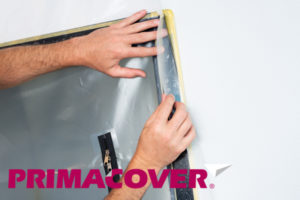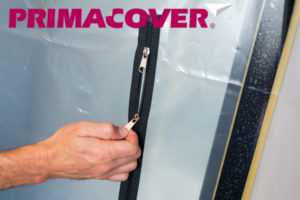 Zip passage
Only a reliable dust-proof zip provides security. After all, building dust spreads through the building via a low-quality dust door. And that is not the intention. One of the most important differences between all fabric doors available on the market is the reliability of the zip.
PrimaCover Zipper Door U and Zipper Door A
PrimaCover Zipper Door U is the newest PrimaCover version. It consists of a strong film with a U-shaped opening and is suitable for intensive use and long-term applications. It is applied with a suitable tape. The zip is of industrial quality and has two sliders for extra ease of use. The advantage of a U-zipper is that the underside of the dust door can be fixed to the floor surface. A variant to this is PrimaCover Zipper Door A. The difference is the shape of the zip. The A zip opens to the floor without a doorstep. This is easier if you walk in and out more often. But also if you regularly want to go through it with wheelbarrows, vacuum cleaners and other rolling equipment.
PrimaCover Zipper
Finally, PrimaCover Zipper is the third PrimaCover product variant from the Zipper series. This is a set of 2 separate self-adhesive zips. These have excellent adhesion to film. The self-adhesive part of these zips is extra wide. This ensures even greater reliability. An ideal solution if you want to use your own fabric wall construction. For example, if you have made a dust-proof passage at oversized passages. Choose whether you want to provide your fabric door with an opening with 1 or 2 zips. For a wide passageway, apply the two zips at some distance from each other. Simply stick on, cut open and the passage is ready!
The properties of the PrimaCover Zipper series:
choice out of 3 reliable solutions
always a suitable dust-proof passage
reliable industry-quality zip