Most painters are not lacking work. In new buildings and in winter painting projects, it is nice to be able to get started quickly and to work efficiently. That means no repair costs, no time wasted and no danger of exceeding the delivery date. Therefore, before you start work, you protect floors and stairs from paint and damage. But what if the floor is still too new to be moisture-proof sealed? In that case, don't take any risks: use PrimaCover Evapo. This self-adhesive vapour-permeable non woven covering protects the surface against moisture, paint, latex and mechanical damage, but gives the surface in the meantime the chance to dry out.
Vapour-permeable non woven covering
Once rolled out, PrimaCover Evapo is easily recognisable by its blue colour. This self-adhesive vapour permeable non woven covering was specially developed for recently laid and newly treated floors, such as wood and parquet. But also newly laid ceramic floors contains moisture. If you were to cover these sensitive surfaces vapour-tight, you would risk discolouration or staining. Repairing the floor is a time-consuming job, which means delays in delivery and discussions about the cost of repairs. To prevent this, PrimaCover Evapo is the right solution. It has a vapour permeability of 70gr/m2/24hr. Ideal for protecting floors and stairs that may be walked on, but have not yet fully dried out.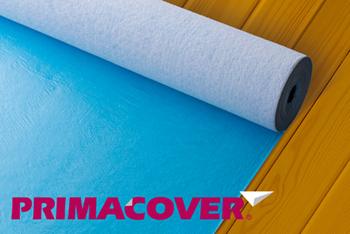 Protecting
This type of protection means that paint, latex, moisture and dirt have no chance of penetrating the surface. The polyester non woven is also shock absorbent. This is why PrimaCover Evapo prevents mechanical damage to the surface. This can be caused for instance by stairs, scaffolding, falling tools and work shoes.
Crawl space
If there is a crawl space under the floor, PrimaCover Evapo is also recommended. After all, damp air can rise unnoticed from a crawl space. Even if the floor has not been laid or applied recently, this moisture can build up if the floor is hermetically sealed. PrimaCover Evapo prevents this problem. After all, no painter wants to have an unexpected discussion afterwards about repair costs and extra work while a new job has been scheduled.
More information
You can find PrimaCover Evapo at your professional painters' wholesaler, DIY store or hardware wholesaler. For more information, please feel free to call or email Primaverde. Click here for our contact details.