Meet PrimaCover Defend: ultra-strong non woven panels (thickness: 4 mm) made of compressed recycled fabric. This is a safe, professional and reusable protector that prevents damage to the floor. You can use it for example as an alternative for hardboard or cardboard. PrimaCover Defend is suitable for large and small surfaces. Thanks to the pallet format (80x120cm) placing each panel is a piece of cake. Ideal for large surfaces, but also for smaller applications. This makes PrimaCover Defend a versatile floor protection for building, demolition, installation and painting work.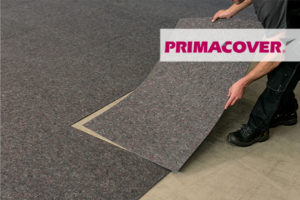 Protection
PrimaCover Defend can be used wherever protection is required against mechanical damage. This will prevent repair costs and damage caused by debris, wheelbarrows, ladders, building stamps, etc. Indoor and outdoor. During installation work, these non woven panels provide reliable protection against the sharp ends of pipes. This is especially important when it comes to vulnerable floors that can easily be damaged. Think of design concrete, cast floors and parquet.
Placing the non woven panels
The non woven panels are quickly and efficiently installed. These angled panels are pressed to a thickness of no less than 4 millimetres. You can position them close to each other. With scissors or a knife you can easily cut them to size if necessary. If necessary, you can join them together by sealing the seams with a suitable tape. The sheets can be used several times. You can take them away individually after use or stack them on a pallet. Ready for the next project.
Short film: How to place PrimaCover Defend >
100% vapour-open
Because PrimaCover Defend is 100% vapour-permeable, this product is suitable for use on floors that are not yet fully dry. This allows the moisture to escape from the floor while protecting the surface from dirt, debris, climbing materials and other mechanical damage. This way, you avoid unnecessary waiting times during the progress of your work. The general rule is: as soon as the floor can be walked on, you can start work. That is a big plus, from the construction phase to the finishing phase. This makes it an ideal covering material for painters, plasterers, installers, interior designers and others.
Large and small surfaces
Use PrimaCover Defend for large and small surfaces. With the greatest ease you will be able to fill a gallery or storey floor. But laying passages is also a popular application. Do you carry out smaller projects? Then this is also a very suitable covering material. With a few of these panels, you can provide protection at the height of your work. For example, as a substrate when mounting doors and window frames, installation work or painting. This is pleasant for you, your employees and your materials.
Painter
You also want to work safely and comfortably as a painter. You will certainly recognise the moments when you need quick floor protection so that you can get on with your work. As a single panel of PrimaCover Defend is easy to move and virtually lint-free, it is ideally suited as a local floor protection when painting frames and doors. With the added advantage that PrimaCover Defend forms a soft, cold-resistant surface. With a few panels, you can also easily create a permanent place for all your belongings. Once you have finished your work, you can simply take them to the next location.
Tiler
Are you a tiler? PrimaCover Defend provides a safe base for your saw tables and prevents damage from falling tools and tiles. When working with large, heavy tiles, it is also nice to be able to place them on the floor without risk and without the edges and corners crumbling. PrimaCover Defend also provides effective protection against tile splinters that result from cutting, sawing and mitering. These extremely hard splinters can cause serious damage to existing floors. This way, you avoid repair costs and discussions with your client.
Additional protection
You can also combine PrimaCover Defend with other covering materials for extra protection, such as PrimaCover Carpet or PrimaCover Standard non woven covering . This will provide a moisture-proof seal against the entry of, for instance, water and paint